About
Larry Aronson

– Systems Psychoanalyst
Helping people and computers understand each other and work better together.
I provide Information Technology (IT) expertise to get people's ideas and businesses online by:
Designing and building websites
Rescuing websites from hackers
Networking clients with people and resources
Teaching people how to use the Web effectively
Writing user manuals, proposals and books
YOU'RE INVITED to explore this website; to get to know me and learn what I can do for you. If you're interested, please contact me for your next online project. If you have a problem that needs a quick answer, consider buying my brains by the hour.
RIGHT NOW I'm working a lot in WordPress, the popular blogging platform powering many of the world's top websites. I build custom themes, write plugins, add content management functions, etc. I also solve DNS and hosting problems for my clients, improve their SEO and build their traffic through social media connections.
WEBCERTAIN.TV INTERVIEW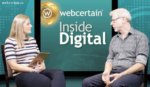 Gemma Houghton interviewed Larry Aronson at Marketing Profs B2B Forum in Boston, October 2016. The topic of the 11 minute video is: "Capitalising On New Technologies".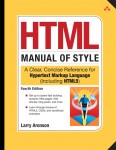 IT'S ALIVE! The fourth edition of the HTML Manual of Style is now available in your favorite on and offline bookstores. The fourth edition covers some of the exciting new features of HTML5 as well as how to use HTML on blogs, eBay and Wikipedia. More importantly, it's based on my sixteen years of experience building websites for individuals and small businesses. Order the HTML Manual of Style from Amazon. Read More About It
Contact me if you have any questions about the HTML Manual of Style, or if you'd like me to speak at your next event, or write an article for your ezine, or if you'd just like to talk about websites.
Best regards,
Larry Aronson