About
Larry Aronson

– Systems Psychoanalyst
Helping people and computers understand each other and work better together.
I provide Information Technology (IT) expertise to get people's ideas and businesses online by:
Designing, building and updating websites
Fixing email, DNS and hosting problems
Creating and updating content.
YOU'RE INVITED to explore this website; to get to know me and learn what I can do for you. If you're interested, please contact me for your next online project. If you have a problem that needs a quick answer, consider buying my brains by the hour.
I'M PROUD TO ANNOUNCE that I'm a contributing author of a new community book project: The Most Amazing Marketing Book Ever by Mark Schaefer & Friends. My chapter is: The Magic of Search Engine Optimization. It's  available now in paperback and Kindle on Amazon — Read more about this amazing book.
UPDATE: The Most Amazing Marketing Book Ever is  "#1 New Release in Marketing/Advertising" thanks to great early reviews.
RIGHT NOW I'm very excited by Voice/AI and the future of Conversational Computing. I've been experimenting with ways to add voice recognition and synthesis to websites and apps. I've also written a WordPress plugin, ListenUp, which adds basic text to speech capability to post elements. Hear More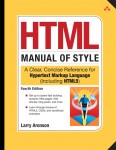 IT'S ALIVE! The fourth edition of the HTML Manual of Style is now available in your favorite on and offline bookstores. The fourth edition covers some of the exciting new features of HTML5 as well as how to use HTML on blogs, eBay and Wikipedia. More importantly, it's based on my sixteen years of experience building websites for individuals and small businesses. Order the HTML Manual of Style from Amazon. Read More About It.
Contact me if you have any questions about the HTML Manual of Style, or if you'd like me to speak at your next event, or write an article for your blog, or if you'd just like to talk about websites.
Best regards,
Larry Aronson